"Scramble For The Marinas"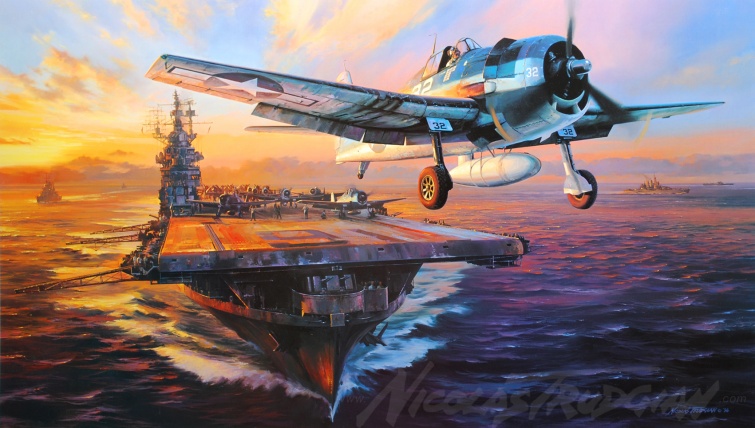 Print Editions

Standard
Artists Proof
Remarque
SIZE 36" x 24"
LIMITED EDITION PRINT by Nicolas Trudgian

Lieutenant Alex Vraciu leads a division of Fighting Squadron 16's F6F Hellcats off the U.S.S. Lexington, headed for the Marianas Turkey Shoot, June 19th, 1944.

Published in 1994.
Each print is numbered and signed in pencil by Nicolas Trudgian and is issued with an original certificate of authenticity from the publisher.
Standard Edition print run 1000

Signed by four U.S. Navy Aces who flew the F6F in combat in the Pacific.

Commander Alex Vracui
Captain Richard 'Zeke' Cormier
Commander Hamilon 'Mac' McWhorter
Captain Armstead 'Chick' Smith

£95.00

$119.70

Artists Proof Edition print run 100

Signed by four U.S. Navy Aces who flew the F6F in combat in the Pacific.

Commander Alex Vracui
Captain Richard 'Zeke' Cormier
Commander Hamilon 'Mac' McWhorter
Captain Armstead 'Chick' Smith

£155.00

$195.30

Remarque Edition print run 50

Signed by four U.S. Navy Aces who flew the F6F in combat in the Pacific.

Commander Alex Vracui
Captain Richard 'Zeke' Cormier
Commander Hamilon 'Mac' McWhorter
Captain Armstead 'Chick' Smith

£325.00

$409.50