"Pacific Glory"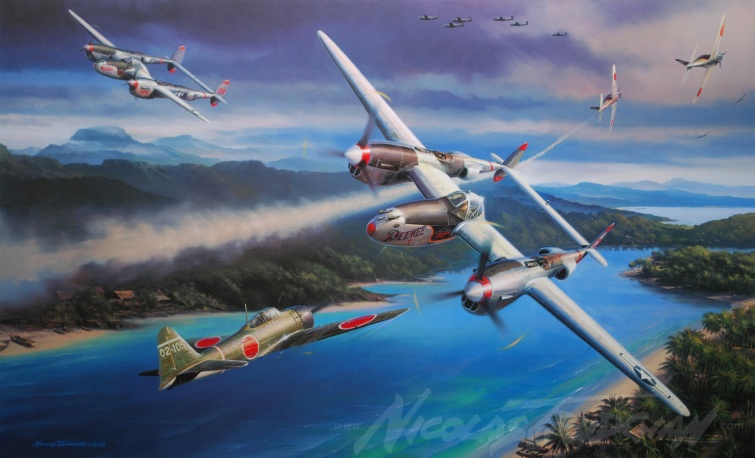 Print Editions

Anniversary
Commemorative
Commemorative Artists Proof
Commemorative Remarque
Commemorative Double Remarque
SIZE 33" x 23.5"
LIMITED EDITION PRINT by Nicolas Trudgian

P38 Lightnings of the 475th Fighter Group race headlong into battle with Japanese Zeros over the South China Sea, March 1945. Flying escort to B25 Mitchells bombing enemy strongholds along the coast, another furious dogfight ensues but American might will win the day, another step along the path to ultimate victory.

Published in 2005.
Each print is numbered and signed in pencil by Nicolas Trudgian and is issued with an original certificate of authenticity from the publisher.
Anniversary Edition print run 350

Signed by three highly decorated P-38 pilots who flew in combat with the 475th Fighter Group in the Pacific theatre during World War II.

Col Perry J Dahl
Cpt Joseph Forster
Cpt Thomas Oxford

£120.00

$151.20

Commemorative Proof Edition print run 150

Signed by five highly decorated P-38 pilots who flew in combat with the 475th Fighter Group in the Pacific theatre during World War II.

Col Perry J Dahl
Cpt Joseph Forster
Cpt Thomas Oxford

Cpt Jack Olson
Lt Col John Loisel

£150.00

$189.00

Commemorative Artists Proof Edition print run 25

Signed by five highly decorated P-38 pilots who flew in combat with the 475th Fighter Group in the Pacific theatre during World War II.

Col Perry J Dahl
Cpt Joseph Forster
Cpt Thomas Oxford

Cpt Jack Olson
Lt Col John Loisel

£220.00

$277.20

Commemorative Remarque Edition print run 40

Signed by five highly decorated P-38 pilots who flew in combat with the 475th Fighter Group in the Pacific theatre during World War II.

Col Perry J Dahl
Cpt Joseph Forster
Cpt Thomas Oxford

Cpt Jack Olson
Lt Col John Loisel

£325.00

$409.50

Commemorative Double Remarque Edition print run 10

Signed by five highly decorated P-38 pilots who flew in combat with the 475th Fighter Group in the Pacific theatre during World War II.

Col Perry J Dahl
Cpt Joseph Forster
Cpt Thomas Oxford

Cpt Jack Olson
Lt Col John Loisel

£525.00

$661.50