"Hurricane Country"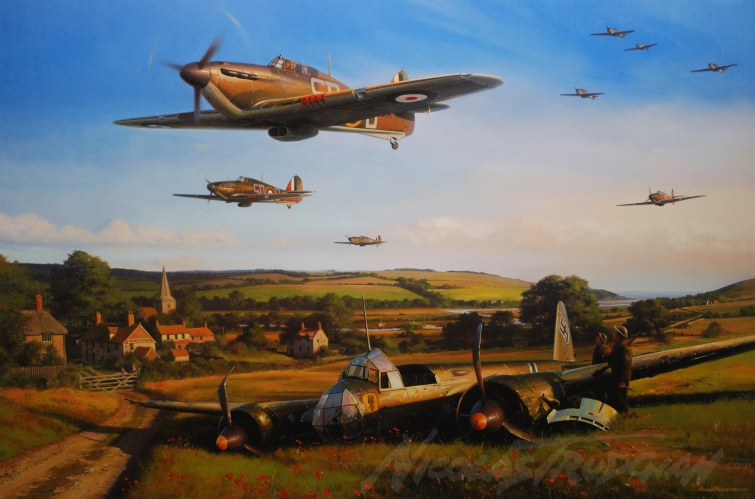 Print Editions

Aces
Battle of Britain
Artists
Remarque
Double Remarque
501 Tribute
SIZE 31" x 23.5"
LIMITED EDITION PRINT by Nicolas Trudgian

Throughout the long hot summer of 1940 the villages and towns of south east England found themselves in the front line as the Battle of Britain raged high above in clear skies. Crash-landed in the corner of a Sussex field, a German Ju88 of KG30 is an uninvited visitor. More welcome are the Hurricanes of 501 Squadron as they roar low overhead, racing home for fuel and ammunition. Within minutes they will scramble aloft again to rejoin the battle.

Published in 2005.
Each print is numbered and signed in pencil by Nicolas Trudgian and is issued with an original certificate of authenticity from the publisher.
Aces Edition print run 100

Signed by

Sqn Ldr Ken Lee
Wng Cmdr Ken Mackenzie

£120.00

$151.20

Battle of Britain Proof Edition print run 450

Signed by

Sqn Ldr Ken Lee
Wing Cmdr Ken Mackenzie
Wing Commander Paul Farnes DFM
Flight Lieutenant Eric Parkin

Wing Commander Vivian Snell
Wing Commander William J Green
Squadron Leader Tony Pickering

£140.00

$176.40

Artists Proof Edition print run 25

Signed by

Sqn Ldr Ken Lee
Wing Cmdr Ken Mackenzie
Wing Commander Paul Farnes DFM
Flight Lieutenant Eric Parkin

Wing Commander Vivian Snell
Wing Commander William J Green
Squadron Leader Tony Pickering

£220.00

$277.20

Remarque Edition print run 40

Signed by

Sqn Ldr Ken Lee
Wing Cmdr Ken Mackenzie
Wing Commander Paul Farnes DFM
Flight Lieutenant Eric Parkin

Wing Commander Vivian Snell
Wing Commander William J Green
Squadron Leader Tony Pickering

£325.00

$409.50

Double Remarque Edition print run 10

Signed by

Sqn Ldr Ken Lee
Wing Cmdr Ken Mackenzie
Wing Commander Paul Farnes DFM
Flight Lieutenant Eric Parkin

Wing Commander Vivian Snell
Wing Commander William J Green
Squadron Leader Tony Pickering

£525.00

$661.50

501 Tribute Edition print run 10

Signed by

Sqn Ldr Ken Lee
Wng Cmdr Ken Mackenzie
Wing Commander Paul Farnes DFM
Flight Lieutenant Eric Parkin
Wing Commander Vivian Snell

Wing Commander William J Green
Squadron Leader Tony Pickering
Squadron Leader John Gibson DSO DFC
Wing Commander Stanislaw Skalski DSO DFC** VM

£995.00

$1,253.70