"The Black Sheep"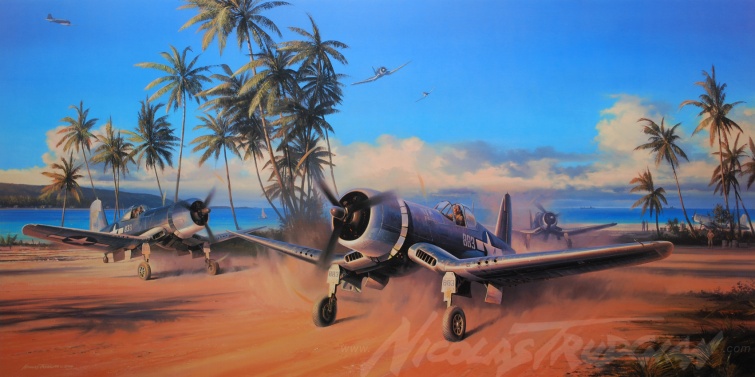 Print Editions

Fighter Pilots
Black Sheep
Artists Proof
Remarque
Double Remarque
Black Sheep Tribute
SIZE 35" x 24"
LIMITED EDITION PRINT by Nicolas Trudgian

Major Gregory 'Pappy' Boyington's 'Black Sheep', the Marine Corsairs of VMF-214, taxi out for another mission from Vella Lavella, December 1943, escorting a B24 raid on the Japanese fortress at Rabaul. Action is guaranteed, and the intensity of aerial fighting here, which later saw Boyington shot down and taken prisoner, was equal to anything in the war. For their part in the prolonged battle for the South West Pacific the Black Sheep became national heroes.

Published in 2004.
Each print is numbered and signed in pencil by Nicolas Trudgian and is issued with an original certificate of authenticity from the publisher.
Fighter Pilots Edition print run 125

Signed by two leading 'Black Sheep' F4U Corsair pilots.

Lieutenant Colonel Robert W. McClurg
Brigadier General Bruce J. Matheson USMC

£120.00

$151.20

Black Sheep Edition print run 600

Signed by seven leading 'Black Sheep' F4U Corsair pilots.


Lieutenant Colonel Robert W. McClurg
Brigadier General Bruce J. Matheson USMC
Lieutenant Colonel W. Thomas Emrich USMC
Colonel Edwin A. Harper USMC

Lieutenant Colonel William D. Heier USMC
Lieutenant Colonel James J. Hill USMC
Captain Fred S. Losch USMC

£170.00

$214.20

Artist Proof Edition print run 25

Signed by seven leading 'Black Sheep' F4U Corsair pilots.

Lieutenant Colonel Robert W. McClurg
Brigadier General Bruce J. Matheson USMC
Lieutenant Colonel W. Thomas Emrich USMC
Colonel Edwin A. Harper USMC

Lieutenant Colonel William D. Heier USMC
Lieutenant Colonel James J. Hill USMC
Captain Fred S. Losch USMC

£220.00

$277.20

Remarque Edition print run 40

Signed by seven leading 'Black Sheep' F4U Corsair pilots.

Lieutenant Colonel Robert W. McClurg
Brigadier General Bruce J. Matheson USMC
Lieutenant Colonel W. Thomas Emrich USMC
Colonel Edwin A. Harper USMC

Lieutenant Colonel William D. Heier USMC
Lieutenant Colonel James J. Hill USMC
Captain Fred S. Losch USMC

£325.00

$409.50

Double Remarque Edition print run 10

Signed by seven leading 'Black Sheep' F4U Corsair pilots.

Lieutenant Colonel Robert W. McClurg
Brigadier General Bruce J. Matheson USMC
Lieutenant Colonel W. Thomas Emrich USMC
Colonel Edwin A. Harper USMC

Lieutenant Colonel William D. Heier USMC
Lieutenant Colonel James J. Hill USMC
Captain Fred S. Losch USMC

£525.00

$661.50

Black Sheep Tribute Edition print run 10

Signed by seven leading 'Black Sheep' F4U Corsair pilots.

Lieutenant Colonel Robert W. McClurg
Brigadier General Bruce J. Matheson USMC
Lieutenant Colonel W. Thomas Emrich USMC
Colonel Edwin A. Harper USMC
Lieutenant Colonel William D. Heier USMC
Lieutenant Colonel James J. Hill USMC
Captain Fred S. Losch USMC

Each print is released with a unique and separate original pencil drawing. Each drawing is double matted to include the original and genuine signature of Col 'Pappy' Boyington.

Original drawing signatures

Lieutenant Colonel Henry M.Bourgeois USMC
Colonel Gregory 'Pappy' Boyington USMC

VMF-214 'Black Sheep' was one of only two Marine fighter squadrons to receive an individual Presidential Unit Citation. A copy of this citation will be issued as part of this special 'Black Sheep' Tribute edition.

£1,175.00

$1,480.50