"Bomber Force"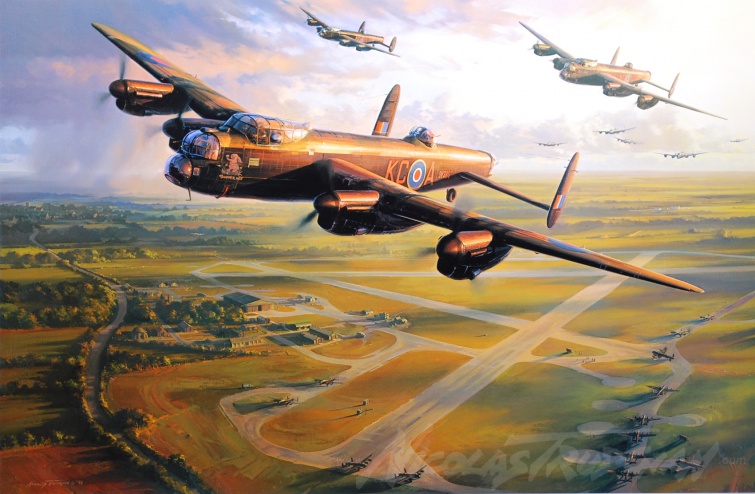 Print Editions

Standard
Artists Proof
Remarque
SIZE 31" x 23"
LIMITED EDITION PRINT by Nicolas Trudgian

Lancasters of No.617 Squadron R.A.F. Bomber Command climb out of a forward airfield to form up for a long-range raid on munition factories in enemy occupied Europe.

Published in 1995.
Each print is numbered and signed in pencil by Nicolas Trudgian and is issued with an original certificate of authenticity from the publisher.
Standard Edition print run 500

Signed by four World War II pilots who skippered the heavy RAF bombers over Germany.

Group Captain Roy D. Max
Squadron Leader Malcolm 'Mac' Hamilton
Flight Lieutenant R.E. Knights
Squadron Leader T. Kearns

£95.00

$119.70

Artists Proof Edition print run 50

Signed by four World War II pilots who skippered the heavy RAF bombers over Germany.

Group Captain Roy D. Max
Squadron Leader Malcolm 'Mac' Hamilton
Flight Lieutenant R.E. Knights
Squadron Leader T. Kearns

£155.00

$195.30

Remarque Edition print run 50

Signed by four World War II pilots who skippered the heavy RAF bombers over Germany.

Group Captain Roy D. Max
Squadron Leader Malcolm 'Mac' Hamilton
Flight Lieutenant R.E. Knights
Squadron Leader T. Kearns

£325.00

$409.50