"Victory Over The Rhine"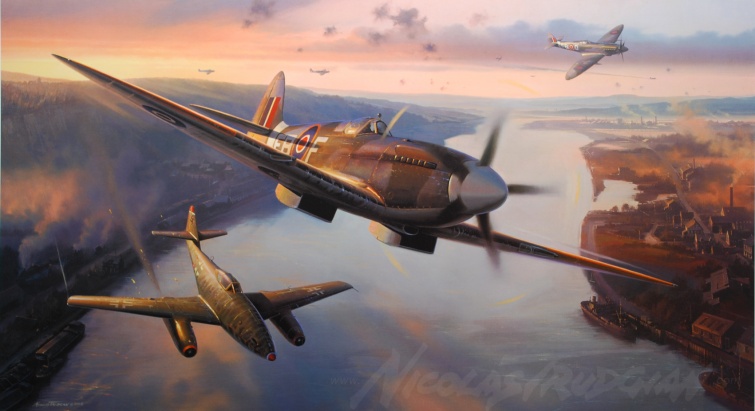 Print Editions

Anniversary
Commemorative
Commemorative Artists Proof
Commemorative Remarque
Commemorative Double Remarque
SIZE 35.5" x 27"
LIMITED EDITION PRINT by Nicolas Trudgian

MkXIV Spitfires of No.41 Squadron engage Me262 jet bombers from KG51 over the Rhine, late 1944. Amongst the final generation of piston-engined fighters, the MkXIV Spitfire with its mighty Griffon engine was one of the finest and fastest and, in the hands of a skilled RAF fighter pilot, still posed a major threat to the Luftwaffe's advanced new jet.

Published in 2005.
Each print is numbered and signed in pencil by Nicolas Trudgian and is issued with an original certificate of authenticity from the publisher.
Anniversary Edition print run 350

Signed by five RAF Aircrew who flew combat in the European theatre during World War II.

Sqn Ldr Hugh Parry
Wg Cdr J Elkington
Sqn Ldr Norman Scrivener

Flt Lt James Kyle DFM
Flt Lt Bertie Boulter DFC

£120.00

$151.20

Commemorative Edition print run 150

Signed by seven RAF Aircrew who flew combat in the European theatre during World War II.

Sqn Ldr Hugh Parry
Wg Cdr J Elkington
Sqn Ldr Norman Scrivener
Flt Lt James Kyle DFM

Flt Lt Bertie Boulter DFC
Sqn Ldr Bam Bamberger
Flt Lt Peter Graham

£150.00

$189.00

Commemorative Artists Proof Edition print run 25

Signed by seven RAF Aircrew who flew combat in the European theatre during World War II.

Sqn Ldr Hugh Parry
Wg Cdr J Elkington
Sqn Ldr Norman Scrivener
Flt Lt James Kyle DFM

Flt Lt Bertie Boulter DFC
Sqn Ldr Bam Bamberger
Flt Lt Peter Graham

£220.00

$277.20

Commemorative Remarque Edition print run 40

Signed by seven RAF Aircrew who flew combat in the European theatre during World War II.

Sqn Ldr Hugh Parry
Wg Cdr J Elkington
Sqn Ldr Norman Scrivener
Flt Lt James Kyle DFM

Flt Lt Bertie Boulter DFC
Sqn Ldr Bam Bamberger
Flt Lt Peter Graham

£325.00

$409.50

Commemorative Double Remarque Edition print run 10

Signed by seven RAF Aircrew who flew combat in the European theatre during World War II.

Sqn Ldr Hugh Parry
Wg Cdr J Elkington
Sqn Ldr Norman Scrivener
Flt Lt James Kyle DFM

Flt Lt Bertie Boulter DFC
Sqn Ldr Bam Bamberger
Flt Lt Peter Graham

£525.00

$661.50