"Mustangs Over the Eagles Nest"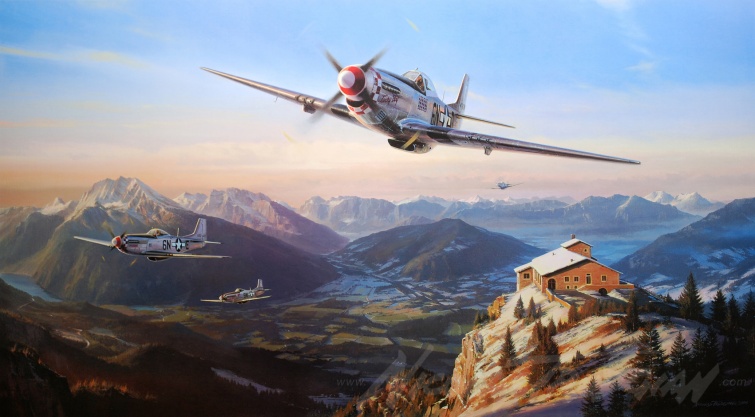 Print Editions

canvas giclee
SIZE 38" x 21"
LIMITED EDITION PRINT by Nicolas Trudgian

A 50th birthday gift from Martin Bormann to Hitler, the Eagle's Nest was intended as a mountain retreat from which the Fuhrer could gaze out over a conquered Europe. The Allies however had other ideas and, in the final weeks of the war, with Germany in ruins and on the brink of defeat, P51 Mustangs of the 339th Fighter Group roar over the rooftop of this now abandoned folly.
Each print is numbered and signed in pencil by Nicolas Trudgian and is issued with an original certificate of authenticity from the publisher.
Canvas Giclee Edition : Rolled print run 15

The only opportunity to obtain the full-size canvas reproduction of this painting, individually signed and numbered in paint by the artist.
Size when stretched: 38" x 21".

ROLLED
Particularly popular for shipping overseas, these canvas giclee prints are supplied rolled and will require stretching onto wooden formers by your picture framer before framing.

£325.00

$409.50

Canvas Giclee Edition : Stretched print run 15

The only opportunity to obtain the full-size canvas reproductions of this painting, individually signed and numbered in paint by the artist.
Size when stretched: 38" x 21".

STRETCHED
Neatly mounted on wooden stretchers and with picture-hanging cord already fitted so that the giclee print may be hung on the wall straight away, even without a traditional frame.

£375.00

$472.50