"Mustangs Over the Eagles Nest"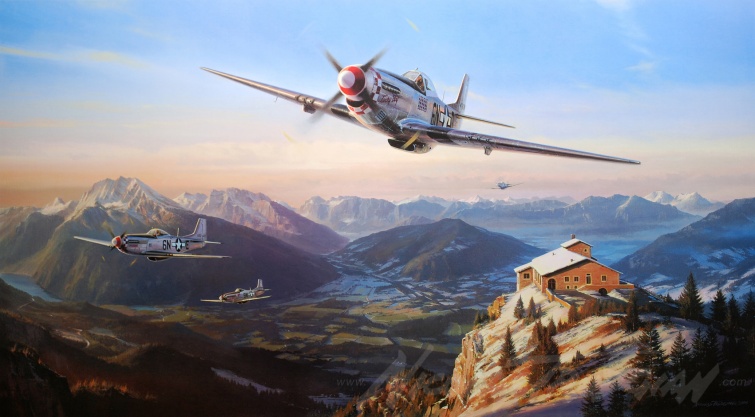 Print Editions

Anniversary
Commemorative
Commemorative Artist Proof
Commemorative Remarque
Commemorative Double Remarque
SIZE 74cm x 41cm
LIMITED EDITION PRINT by Nicolas Trudgian

A 50th birthday gift from Martin Bormann to Hitler, the Eagle's Nest was intended as a mountain retreat from which the Fuhrer could gaze out over a conquered Europe. The Allies however had other ideas and, in the final weeks of the war, with Germany in ruins and on the brink of defeat, P51 Mustangs of the 339th Fighter Group roar over the rooftop of this now abandoned folly.

Published 2005.
Each print is numbered and signed in pencil by Nicolas Trudgian and is issued with an original certificate of authenticity from the publisher.
Anniversary Edition print run 350

Signed by five highly decorated USAAF pilots who flew combat in the European theatre during World War II.


Master Sergeant Dale Moon - 8th Air Force

Lt Colonel Lawrence Powell - 8th Air Force

1st Lieutenant Ivan Hasek - 9th Air Force

Captain John Minech - 12th Air Force

Major Robert Sternfels - 15th Air Force

£120.00

$198.00

Commemorative Edition print run 150

Signed by five highly decorated USAAF pilots who flew combat in the European theatre during World War II.


Master Sergeant Dale Moon - 8th Air Force

Lt Colonel Lawrence Powell - 8th Air Force

1st Lieutenant Ivan Hasek - 9th Air Force

Captain John Minech - 12th Air Force

Major Robert Sternfels - 15th Air Force

Plus two P51 air aces.

Captain Clintin DeWitt Burdick

£150.00

$247.50

Commemorative Artist Proof Edition print run 25

Signed by five highly decorated USAAF pilots who flew combat in the European theatre during World War II.


Master Sergeant Dale Moon - 8th Air Force

Lt Colonel Lawrence Powell - 8th Air Force

1st Lieutenant Ivan Hasek - 9th Air Force

Captain John Minech - 12th Air Force

Major Robert Sternfels - 15th Air Force

Plus two P51 air aces.

Captain Clintin DeWitt Burdick

£220.00

$363.00

Commemorative Remarque edition print run 40

Each print is inscribed with a unique pencil drawing by the artist.
Signed by five highly decorated USAAF pilots who flew combat in the European theatre during World War II.

Master Sergeant Dale Moon - 8th Air Force

Lt Colonel Lawrence Powell - 8th Air Force

1st Lieutenant Ivan Hasek - 9th Air Force

Captain John Minech - 12th Air Force

Major Robert Sternfels - 15th Air Force

Plus two P51 air aces.

Captain Clintin DeWitt Burdick

£325.00

$536.25

Commemorative Double Remarque Edition print run 10

Each print is inscribed with two unique pencil drawings by the artist.
Signed by five highly decorated USAAF pilots who flew combat in the European theatre during World War II.


Master Sergeant Dale Moon - 8th Air Force

Lt Colonel Lawrence Powell - 8th Air Force

1st Lieutenant Ivan Hasek - 9th Air Force

Captain John Minech - 12th Air Force

Major Robert Sternfels - 15th Air Force

Plus two P51 air aces.

Captain Clintin DeWitt Burdick

£525.00

$866.25