"Timber Wolf"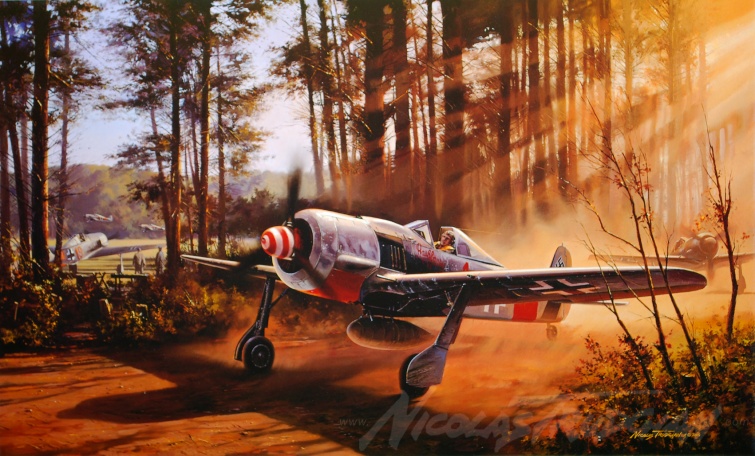 Print Editions

Standard
Artists Proof
Remarque
SIZE 25" x 19"
LIMITED EDITION PRINT by Nicolas Trudgian

Emerging from its hiding in the forest, Leutnant Klaus Bretschneider, Staffelkapitan 5./JG300, taxies his Fw190 A-8 Red 1 Tough Guy VII into the sunlight in preparation for another massed 'sturm' attack on incoming American bombers, northern Germany, October 1944.

Published in 1993.
Each print is numbered and signed in pencil by Nicolas Trudgian and is issued with an original certificate of authenticity from the publisher.
Standard Edition print run 450

Signed by two outstanding Luftwaffe Aces, each having flown the Fw190 in combat.

Oberst Hajo Hermann
Oberfeldwebel Willi Reschke

£70.00

$88.20

Artists Proof Edition print run 25

Signed by two outstanding Luftwaffe Aces, each having flown the Fw190 in combat.

Oberst Hajo Hermann
Oberfeldwebel Willi Reschke

£110.00

$138.60

Remarque Edition print run 25

Signed by two outstanding Luftwaffe Aces, each having flown the Fw190 in combat.

Oberst Hajo Hermann
Oberfeldwebel Willi Reschke

£325.00

$409.50