"Winter Of '41"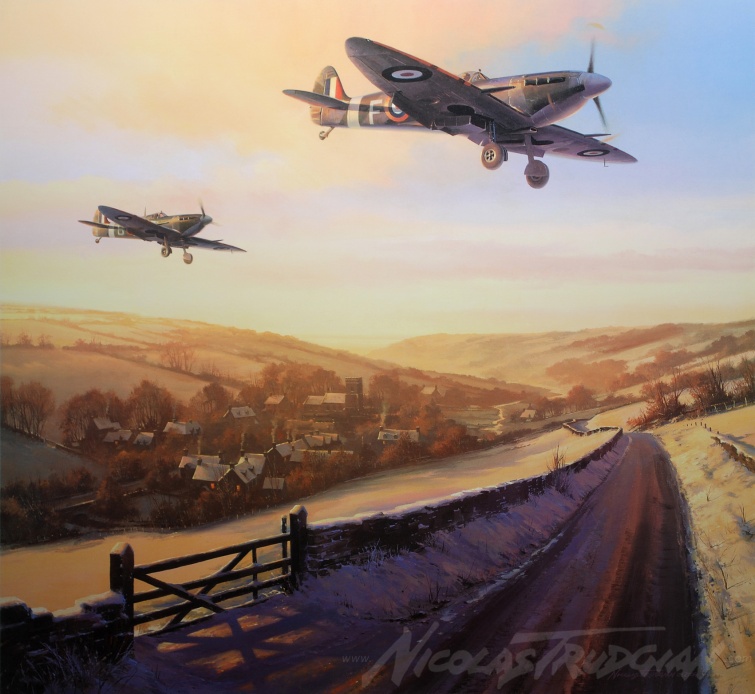 Print Editions

Aces
Artists Proof
Remarque
Double Remarque
SIZE 27" x 26"
LIMITED EDITION PRINT by Nicolas Trudgian

From beneath a blanket of snow an English village rises from its slumbers to the comforting sound of Spitfires returning from a dawn patrol. The Battle of Britain might have been won but the country was now under siege and, during these dangerous times before the tide of war turned, RAF kept constant vigil.

Published in 2004.
Each print is numbered and signed in pencil by Nicolas Trudgian and is issued with an original certificate of authenticity from the publisher.
Aces Edition print run 400

Signed by four fighter pilots who flew the Spitfire in combat during World War II.

Squadron Leader NevilleDuke
Warrant Officer Norman Samuels
Lieutenant Colonel Ervin Miller
Flight Lieutenant Raymond Baxter

£120.00

$151.20

Artists Proof Edition print run 40

Signed by four fighter pilots who flew the Spitfire in combat during World War II.

Squadron Leader NevilleDuke
Warrant Officer Norman Samuels
Lieutenant Colonel Ervin Miller
Flight Lieutenant Raymond Baxter

£170.00

$214.20

Remarque Edition print run 25

Signed by four fighter pilots who flew the Spitfire in combat during World War II.

Squadron Leader NevilleDuke
Warrant Officer Norman Samuels
Lieutenant Colonel Ervin Miller
Flight Lieutenant Raymond Baxter

£325.00

$409.50

Double Remarque Edition print run 10

Signed by four fighter pilots who flew the Spitfire in combat during World War II.

Squadron Leader NevilleDuke
Warrant Officer Norman Samuels
Lieutenant Colonel Ervin Miller
Flight Lieutenant Raymond Baxter

£525.00

$661.50